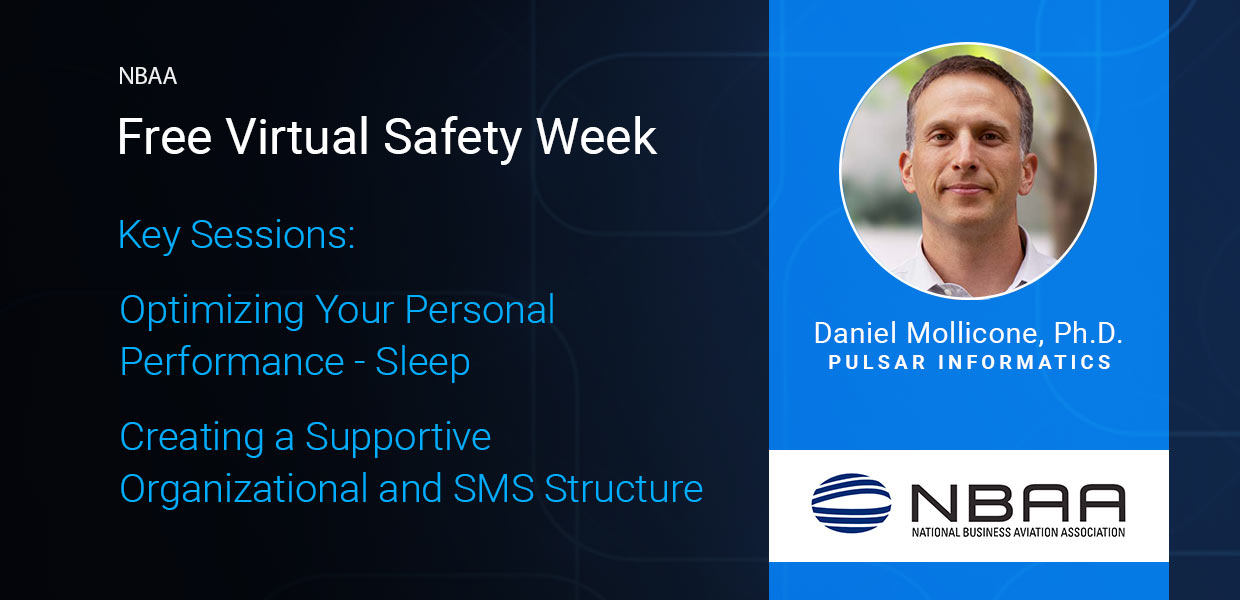 Attend NBAA's Free Virtual Safety Week
NBAA is pleased to once again host the annual Single-Pilot Safety Standdown and National Safety Forum along with a new addition, the Safety Town Hall, where these topics and others will be discussed by top safety experts. Taking place online in short time blocks throughout the week of October 5 to 9 are several sessions that you won't want to miss, including these two that Dr. Daniel Mollicone will be presenting:
Opening Remarks & Optimizing Your Personal Performance - Sleep
Thursday, October 8, 2020 at 11 AM EDT
Sleep is critical for mind and body performance. This session will discuss specific steps an individual can take to facilitate sleep, including making it a priority and creating a sleep habit, that yields stronger personal and safety performance.
Optimizing Your Personal Performance: Creating a Supportive Organizational and SMS Structure & Closing Remarks
Friday, October 9th, 2020 at 1 PM EDT
National Transportation Safety Board Chairman Robert Sumwalt will provide a keynote address, including his first-hand perspective on enhancing business aviation safety. Then our industry-leading panel of experts will help you learn how an operation can utilize its Safety Management System to bring and monitor organizational change that encourages, promotes, and provides tools for proactive Fitness for Duty programs. Services, including flight department assistance programs, airman medical certification services, and biomathematical fatigue modeling, will be discussed for the enhancements they can bring to an organization's fitness for duty program.