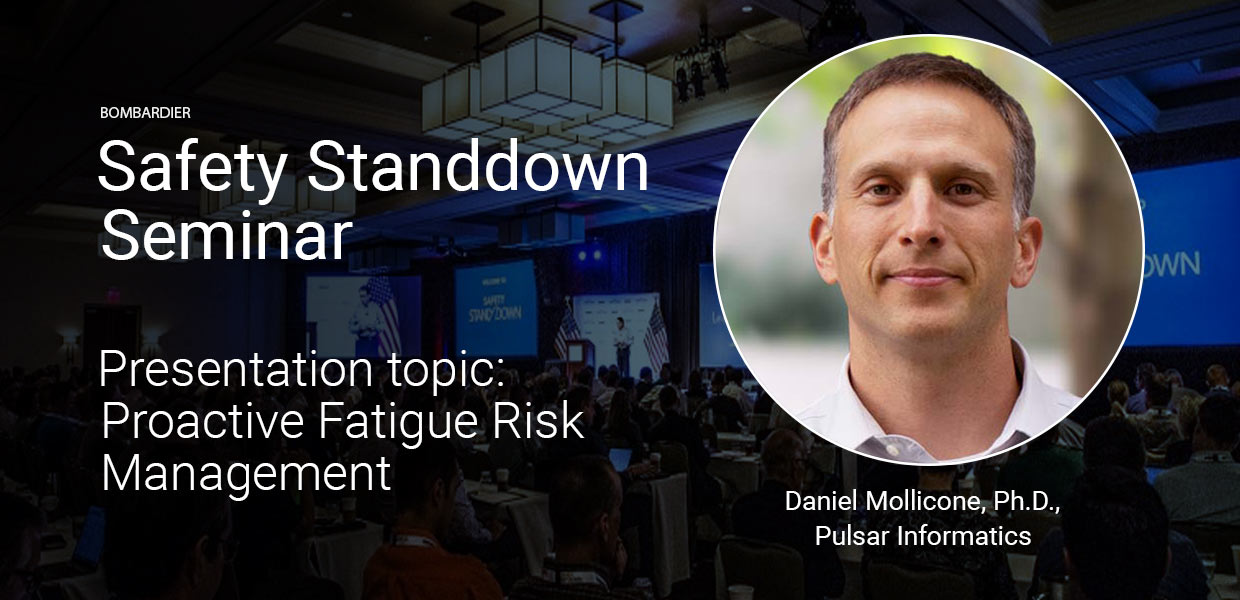 Daniel is speaking at Bombardier's Safety Standdown
Proactive Fatigue Risk Management
When it comes to fatigue risk management, it is the responsibility of the flight department to establish clear fatigue risk management policies and procedures, provide training to crew members, and set flight and duty schedules that provide for adequate rest opportunity. Individual crew members must use their off duty time to get the rest they need to ensure that they report fit for duty. This presentation will cover the basics of fatigue risk management and discuss approaches that flight departments can adopt to systematically monitor and mitigate fatigue risk.
The following topics will be covered on Wednesday, November 13, 2019 at 8 AM.:
Sources and consequences of fatigue in operational settings
Recommended practices related to fatigue risk management
Recent technological advances in the field of fatigue risk management
Research updates related to FAA-sponsored research aimed at quantifying the extent to which fatigue is a hazard in maintenance operations
Saftey Standdown 2019 has reached full capacity! If you are still interested in attending, you are encouraged to register, as you will be added to our wait list and then contacted if there is a cancellation.
Register to the waiting list now!
––––
What is Safety Standdown?
Safety Standdown is an annual event promoting knowledge-based pilot safety training along with personal discipline and responsibility as essential elements of aviation safety and aviation professionalism. The aviation safety program is free of charge and the information is catered towards pilots, crewmembers, maintenance technicians and managers no matter what aircraft they operate.
The Safety Standdown program consist of the Advisory Council and their sub committees, seminars, internal ambassador program, Safety award, online resources and other aviation safety programs that provide tools to fight human error in aviation through individual actions and personal accountability. In addition to the event, the Safety Standdown website provides access to live seminar webcasts as well as a variety of safety-related articles written by experts in the industry.