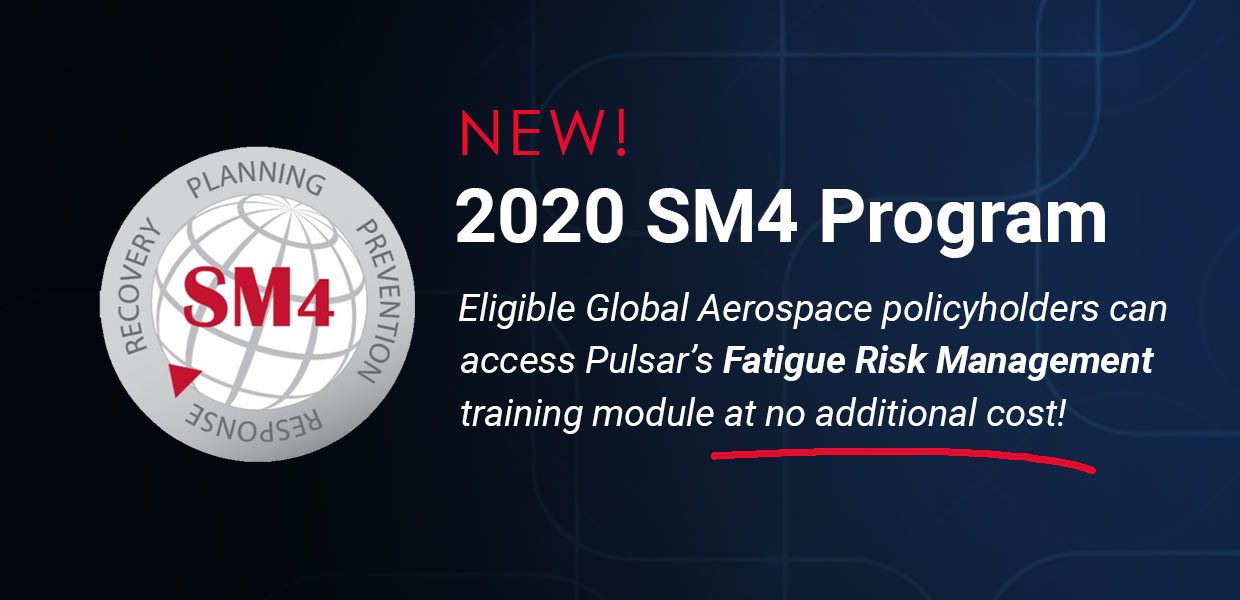 Global Aerospace Launches Online Safety Learning Management System
The SM4 Online Safety Learning Management System (LMS) will provide Global Aerospace general aviation policyholders in the United States (excluding light aircraft and UAS) with the tools and knowledge to further develop and improve their understanding of aviation safety management, professional performance and support their continuous improvement.
The LMS provides Global Aerospace clients with customized online training courses for both personal and professional development to support their continuous improvement: 
Easy, online access to practical and interactive learning plans designed by each of our SM4 partners in their area of expertise;
Time-efficient, impactful courses that provide seamless integration into your organization's training program;
Continually updated courses to keep up with the latest developments in business aviation safety;
Unlimited number of user accounts per client;
Certificate of completion provided to participants for each completed learning plan. 
The LMS has been designed in cooperation with our SM4 partners to support your operation and help meet our industry's need to adopt advanced training solutions to benefit the current and next generation of aviation personnel. The learning plans were designed with everyone from the novice to the more experienced in mind. Clients will have the ability to add and restrict access by users from their organization as well as run customized reports.
Marilena Sharpell, Senior Vice President, Global Aerospace
The initial roll-out series, which will go live throughout the first quarter of 2020, will consist of:
Global Aerospace - Aviation Insurance 101
Convergent Performance - Introduction to Blue Threat(Human Factors/Professionalism/Performance)
Pulsar Informatics - Fatigue Risk Management
MedAire - Travel Risk Management
AJ O'Connor - Introduction to Emotional Intelligence (Personal Development)
Fireside Partners - Top 10 Priorities In the First 6 Hours of a Crisis (ERP and Family Assistance)
Prevailance Aerospace - Introduction to UPRT
Baldwin Aviation - Components of your SMS and Just Culture