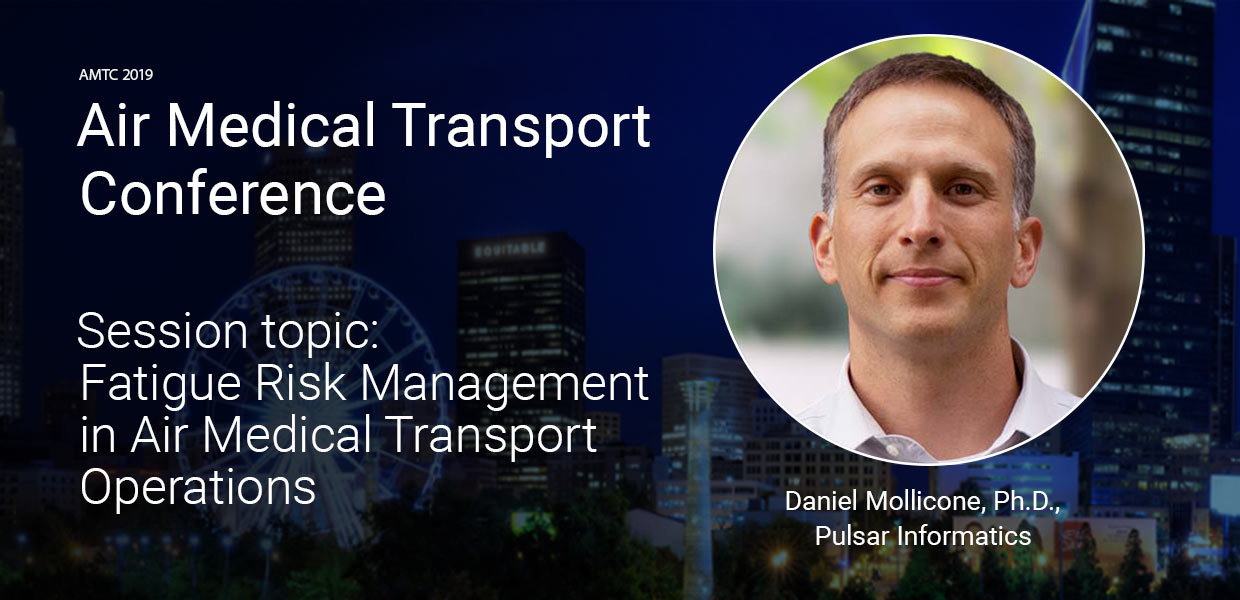 We're heading to the Air Medical Transport Conference in Atlanta • Booth 741
Pulsar Informatics is attending the Air Medical Transport Conference (AMTC) in Atlanta. The conference offers 150+ education sessions covering topics in a variety of disciplines including safety and fatigue management. During session 105, Dr. Daniel Mollicone and Joe Gallagher explore the topic of Fatigue Risk Management in air medical transport operations. 
Session Details
Title:
105. Fatigue Risk Management in Air Medical Transport Operations
Track:
Safety/Aviation
Speakers:
Dr. Daniel Mollicone, Pulsar Informatics; Joe Gallagher, PHI Air Medical
Start Time: 
Monday, November 4 at 09:45 AM
Location:
CC C108
Overview: 
Fatigue risk impacts all personnel involved in air medical transport operations, including both air crew (pilots and clinical staff) as well as ground crew (mechanics and ramp personnel) whose mission-critical activities ensure safe and effective transports. It is well known that fatigue-related deficits impair performance. But how much fatigue is too much? This presentation will demonstrate tools and approaches to assess fatigue risk and crewmember fitness for duty. Benchmarks will be provided to assist organizations with setting up an objective quantitative framework to manage fatigue risk with clear thresholds to trigger fatigue mitigation workflows. Lessons learned will be presented from a fatigue risk management implementation in a large air medical transport operation.
Be sure to stop by booth 741 to learn how Fatigue Meter and PVT WorkFit can help manage worker fatigue risk in your medical transport operation.