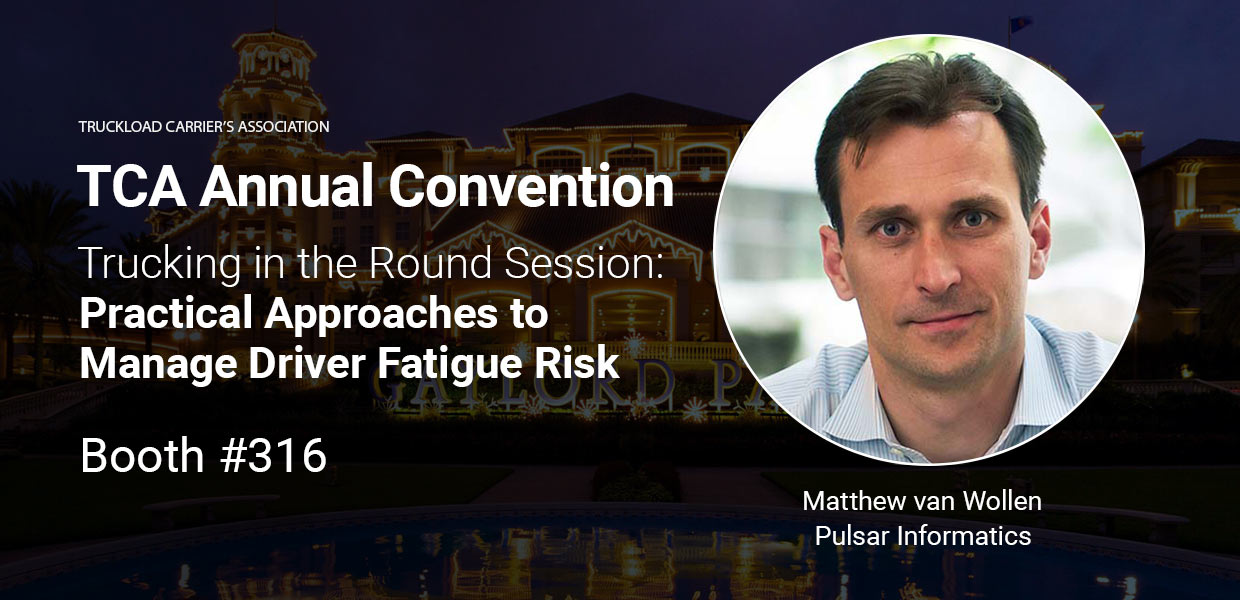 82nd TCA Annual Convention
Pulsar Informatics is exhibiting at Truckload Carriers Association's 86th Annual Convention. Stop by booth #316 to learn how our Trucking Fatigue Meter software monitors driver fatigue across the entire fleet and enables safety managers to pinpoint risk from fatigue before it becomes an issue. The technology connects directly to the ELD system through an API—no wearables or cameras are required.
While you're at the convention, be sure to check out the Trucking in the Round session: Practical Approaches to Manage Driver Fatigue Risk. This session will be led by Matthew van Wollen, CFO of Pulsar Informatics. This session will provide an overview of practical approaches to monitor for and manage driver fatigue risk, discuss case studies implementing software and other programs to mitigate driver fatigue, and will look at the impact of these programs in terms of reductions to safety critical events (e.g., hard braking), collisions, and operating costs.
Matthew van Wollen is a co-founder of Pulsar Informatics. Matthew holds a degree in Engineering Physics and has 20 years experience in transportation safety. He recently served as the lead project coordinator on two congressional mandated DOT studies of truck driver fatigue to aid the hours of service rule making process. He has co-authored several scientific publications in the domain of fatigue risk management and holds two U.S. technology patents for systems related to the monitoring and mitigation of fatigue risk.