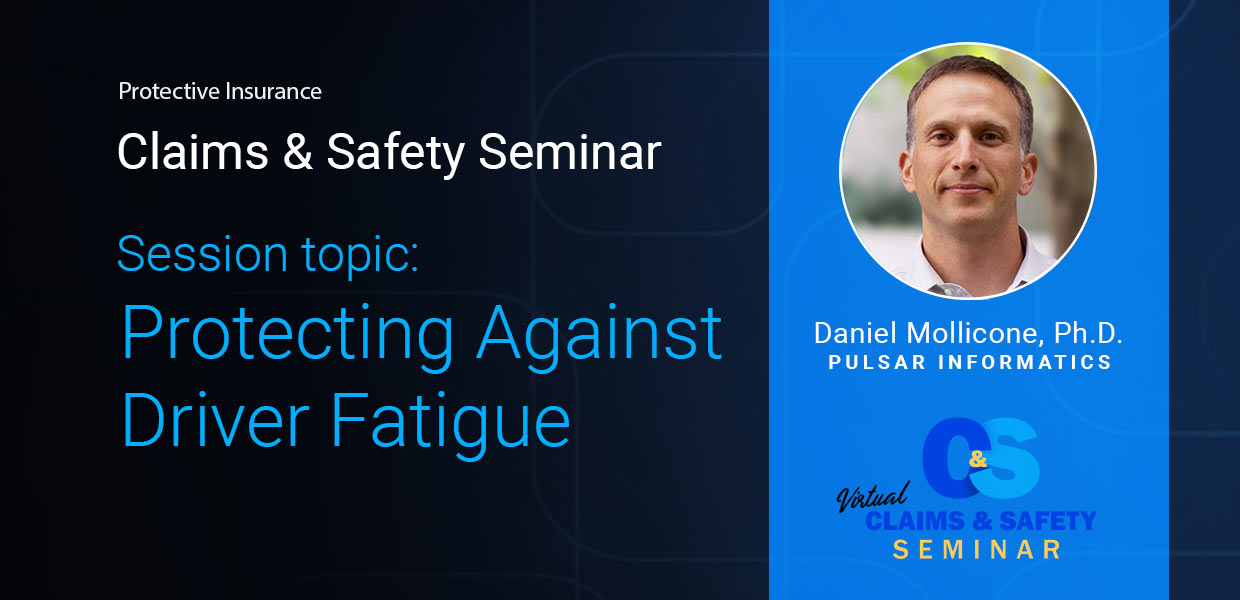 Protecting Against Driver Fatigue
What used to be an invitation-only event is now virtual and open to all! During the 2020 Claims & Safety Seminar hosted by Protective Insurance, you will learn from experts on a variety of topics geared toward improving fleet operations, including a session on fatigue risk management presented by Dr. Daniel Mollicone.
Join us at Tue Oct 13, 2020 12pm - 1pm (EDT).
https://global.gotomeeting.com/join/161350741
Phone: (872) 240-3412
Access Code: 161-350-741
Seminar:
Protective Insurance Claims and Safety Seminar
Session title:
Protecting Against Driver Fatigue
Session Overview:
Fatigued drivers use more fuel, make more errors, and are more frequently involved in collisions. This session will provide an overview of practical approaches to monitor for and manage driver fatigue risk. Case studies will be presented about implementing software and other programs to mitigate driver fatigue. The cases studies will evaluate the impact of these programs in terms of reductions to safety critical events (e.g., hard braking), collisions, and operating costs.
Speaker Bio:
Dr. Daniel Mollicone is Chief Scientist and CEO of Pulsar Informatics, Inc. He is an internationally recognized fatigue expert and holds degrees in Engineering Physics and Biomedical Engineering. He has acted as principal investigator on research related to assessment of fitness for duty and fatigue risk management, funded by DOT (FMSCA), DOD, FAA, NASA, and Transport Canada.